Precision Productions, is a young in age but old in knowledge music production team based in San Fernando, Trinidad and Tobago, which has collectively amassed over 20 years in studio time and work experience.

The company's resume reads as a who's who in the local, regional, and international musical arenas. From Grammy award winner, Chaka Khan, celebrated regional artists Machel Montano and Tessanne Chin, to R&B superstars Carl Thomas and Toni Braxton, the Precision team has garnered work experience in Trinidad, Jamaica, New York, and Los Angeles.

In addition, the company's music productions have won multiple prestigious International Carnival awards and at times a top three sweep in competitions in Trinidad, Grenada, St. Lucia, Antigua, and St. Kitts/Nevis. However, 2012 undeniably stood out as a benchmark year for the company as its music practically swept the International Soca Awards with 11 nominations, and 6 outright wins. This was along with the team's music productions attaining 6 unique placements on MTV's The Real World and Road Rules, two very popular television series which are aired worldwide.

With Precision's present growth and influence in the Soca industry it would be easy to overlook its incredible abilities in other genres of music, as well as in other music-based industries.
However, the company has taken its dynamic energy and relentless drive into multiple genres, such as Calypso, Reggae, R&B, Gospel, Rap, Hip Hop, Pop, Chutney-Soca, and Dance music.

It has also gained commercial and corporate success with innovative advertising campaigns for clients such as local communications conglomerate, Bmobile, regional communications and media giant, Lime, and the internationally renowned brand, Coca Cola.
These endeavours have synced quite well with Precision's merchandising and event management business ventures as well as its now thriving publishing arm.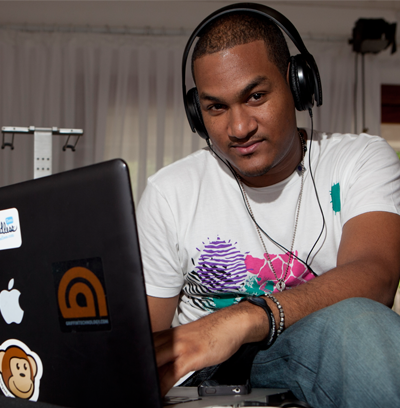 Kasey Phillips
CEO, Head Producer and Engineer
As the founding member of Precision Productions, Kasey Phillips has grown from being seen as his legendary father, Kenny Phillips' heir apparent to being lauded as a top producer and music-mixing specialist in the Caribbean.

A position he has rightfully earned, as over the years he has put in the effort to become certified by Apple in Logic Pro, and has kept up with the latest advances in musical technology, in addition to his certificates in music theory.

Determined to build his own legacy, at only 12 years old his first production hit the airwaves and received heavy rotation. From then to now his music has captured Soca Monarchs and Road March titles locally and regionally, while his steadfast work ethic and unyielding dedication to his passion has matured him into becoming a well respected artist who will undoubtedly shape Caribbean music for many years to come.
Mystie Thongs
General Manager
Mystie Thongs has made a lifelong habit of resourcefully imagining her own distinctive path forward.
This served her well when life compelled her away from engineering, after earning a BSc. in Geological Sciences from Cornell University, one of the top Ivy League schools in the world, to pursue her passion ... the written word.

Since September 2008, she has been writing and developing stories in the field of entertainment, against impossible deadlines and with a very unique descriptive flair. This has lead to her work being featured in all of Trinidad and Tobago's daily newspapers as well as various regional magazines.
Along with handling all communications, her dynamic leadership skills are vital to the running of Precision Global Music Ltd. With her primary duty being to ensure that short and long term team goals are always achieved in a timely manner.